The 2011 Doomsday Film Festival explores our collective obsession with the Apocalypse in film, art, and culture.
From raptures, plagues, meteorites, nuclear holocausts, aliens, zombie attacks, ecological catastrophe, and cybernetic revolt to the 2012 doomsday predictions, the Festival will touch upon all possible permutations of our collective demise.
We'll be screening films from across the board, with works ranging from premieres to established classics to rediscovered gems. On the schedule for the 2011 Festival are nuclear fallout cartoons, early '60s atomic parables, '80s zombie punk, award-winning independent shorts, and much more.
The event will incorporate a panel-based symposium featuring authors, artists, and all manner of experts on the End of Days. We plan to tackle the Apocalypse in all its forms, and hope you'll join us for the ride!
Join our social network and email lists:



---

DDFF 2011 Advance Press Clips:
---

Where is this year's Festival Being Held?
92YTRIBECA
200 Hudson Street
New York, NY 10013
www.92y.org/tribeca
Directions: Easy to get to via the E, 1, and 6 trains.
E: Exit at Canal Street (front of trains headed uptown/ back of trains headed downtown). Walk west on Canal to Hudson. Make a left on Hudson. 92YTribeca will be a block down on your left.
1: Exit at Canal Street. Walk (2 blocks) west on Canal to Hudson. Make a left on Hudson. 92YTribeca will be a block down on your left.
6: Exit at Canal Street. Walk (9 blocks) west on Canal to Hudson. Make a left on Hudson. 92YTribeca will be a block down on your left.
Need more directions? We recommend HopStop.com
---
What is the 92YTribeca?
92YTribeca, 92nd Street Y's downtown center located at 200 Hudson Street, helps 92Y carry on its mission to serve the community and the world in a remarkable way by providing exceptional programs across the spectrum—in the arts and culture, Jewish life and education, health and fitness and personal growth and travel. As part of 92nd Street Y, our mission downtown is to bring together and inspire a diverse community of people from New York City and beyond. The 92Y. An open door to extraordinary worlds. www.92y.org/tribeca
---
So when exactly will the world end?
It's hard to say. There have been many different End Times scenarios from societies throughout history. Come to the "Doomsday over the Ages" panel discussion and ask one of our experts in person.
---
Isn't it a little weird to be celebrating the End of the World?
Well, we noticed that this subject keeps popping up in our visual culture and we are interested in exploring why. There's a wide range of thought on the Apocalypse that's rooted in both imaginative escapism and genuine fears. Our film programming is intended to investigate themes involving the Rapture, 2012, Nuclear Annihilation, Zombies and everything in between.
---
But this festival is kind of a party too, right?
Yes! You can't screen "Damnation Alley" and take yourself too seriously. We'll have concessions at all screenings, killer DJ sets, receptions and an after party at a local Williamsburg bar.
---
Isn't the Apocalypse a very serious business?
It certainly is. Our mission is to explore all aspects of Doomsday in Film, Art, and Culture. Panels on "Doomsday Over the Ages", "The Rapture" and "When Zombies/Aliens Attack" will provide viewers an opportunity to explore the Apocalypse in detail.
---
I have a short film/painting/video game/comic book/graphic novel/ambient video/poem/art piece that I'd like to present at the Doomsday Film Fest. Are you taking submissions?
Sorry, but submissions for DDFF 2011 are now closed. Please check back with us in 2012!
---
What should I do in case of a Zombie attack?
Rendezvous with other survivors at the theater. And bring your axe.
---
Who Are The Festival Directors?
Andrew Miller is an award-winning filmmaker living in Brooklyn, NY. His short stories, articles and photography have appeared in a handful of assorted publications. He's the drummer for the band Riff Raff and works for a non-profit which provides relief services for New York's homeless population.
Contact Andrew »
Kristana Textor is a Brooklyn based documentary Director of Photography. When she's not working in film & television, or speculating about the impact of video games on our psyches and culture, she paints abstract interpretations of the End Times.
Contact Kristana »

View Kristana's artwork »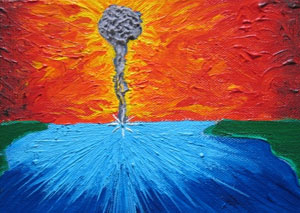 Title, Acrylic on Canvas
---
It's End of the World: Doomsday Film Fest Promo

---
Films for the Third Annual DDFF will be projected in 35mm!!!
---
Friday October 21, 2011. 6:00 - 8:00 pm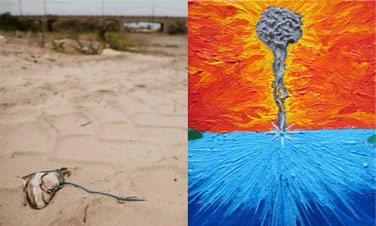 The 2011 Doomsday Film Fest Art show brings together a wide variety of artists who have created work inspired by the idea of an Apocalypse. Perhaps atomic warfare, a plague, massive asteroids, ecological catastrophe, zombie attack, or even the Rapture has ravaged our world. Maybe we met our end by way of a robot uprising. Whatever The Event was that led to our demise the DDFF artists have imagined it and rendered it for your visual examination.
Featured Doomsday Visual Artists:
Joseph Griffith
Sean Newton
---
Friday October 21, 2011. 8:00 pm $12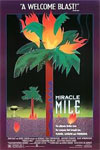 Followed by Q&A with Anthony Edwards & Steve De Jarnatt conducted by Rumsey Taylor Co-presented by Not Coming to a Theater Near You
Doomed romantic Anthony Edwards finally stumbles into a meet-cute with a dream girl, but on the eve of their second date, he picks up a stray ringing pay phone at 4 am and gets some unfortunate news-WWIII has been launched, giving him 70 minutes before nukes descend upon L.A.
Originally intended to be the plot of Twilight Zone: The Movie, the film was a labor of love for writer/director Steve De Jarnatt, taking nearly a decade to produce independently. Miracle Mile stands as the definitive time-capsule of Reagan-era apocalyptic dread, richly populated by the nocturnal riffraff of L.A., with its gallery of lonely waitresses, homeless lunatics and neonspandexed bodybuilders scrambling desperately to escape the impending black rain.
Director: Steve De Jarnatt. 87 min. 1988. 35mm
---
Friday October 21, 2011. 10:30 pm $12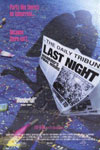 Special guest curator Edgar Wright (in person, schedule permitting)
Oh, Y2K. Quaint as it may seem now, pre-millennial panic loomed like a spectre for years-with the doomsday clock ticking down to both the Rapture and technological breakdown, not to mention the greatest Prince party ever. Don McKellar's Last Night may have sprung from Y2K insanity, but remains timeless, a sweetly nonchalant apocalypse in miniature.
Leave it to the Canadians to best capture the aw-shucks benign resignation of late '90s angst-with six hours left until some unidentified cataclysm, the radio counts down the best songs of all time, a gas-utility exec (David Cronenberg) makes thank-you calls, and a family politely goes through the motions of their last meal. Instead of cowering or rising up against their doomsday, McKellar's touching myriad of hapless citizens just sort of carry on. And as Amy Taubin says, Last Night's doozy of a finale rivals "Giulietta Massina smiling into the camera in Nights of Cabiria, or the seaside sunset in Eric Rohmer's The Green Ray."
Director: Don McKellar. 98 min. 1999. 35mm
---
Saturday October 22, 2011. 6:00 pm $12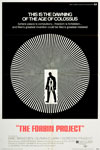 Followed by "The Singularity is Nigh" panel discussion Co-presented by Motherboard
In the granddaddy of "technology run amok" films (released in 1970), the eponymous NORAD-sized supercomputer is designed as nuclear failsafe, but before you can say HAL (or Skynet, or the Matrix), the computer becomes self-aware and turns against its human masters.
Bizarrely forgotten, Colossus was actually produced before 2001 but delayed because its studio was so upset by the film's grim flippant tone. Nowhere as grave and bloodless as your standard Luddite paranoid fantasy, Colossus is actually closer in spirit to Strangelove, with its wry literate script, crisp pacing, mordant take on human folly and increasingly odd twists-notably when Colossus puts its scientist-creator's every move (including sexy time) under surveillance.
Director: Joseph Sargent. 100 min. 1970. 35mm
Followed by a panel discussion featuring journalist Maggie Jackson (Distracted: The Erosion of Attention & the Coming Dark Age), critic Joshua Rothkopf (Time Out NY), author Jason Zinoman (Shock Value), roboticist Chris Bregler, and president of the Singularity Institute Michael Vassar. Moderated by Motherboard editor-in-chief Michael Byrne.
---
Saturday October 22, 2011. 9:30 pm $12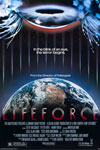 Introduced by Mike Sampson of JoBlo
Co-presented by JoBlo
Pre-Screening Complimentary Sexy Alien Zombie Makeup
In this bugnuts sci-fi exploitation masterwork of "Holy F**ing Sh*t" proportions, a cadre of astronauts discovers a ship tucked inside Halley's Comet containing three smoking hot naked vampire humanoids-but when the creatures are brought back to London for research, they proceed to turn the Brits into a mass of soul-sucking zombies.
Essentially an apocalyptic film festival unto itself, Lifeforce conjures no less than every conceivable doomsday scenario, with an emphasis on perverse sexual imagery so often ignored by the apocalyptic canon. Unfairly derided at the time as incoherent junk, this is far from phoned-in hackwork, with director Tobe Hooper (Texas Chainsaw Massacre) and writer Dan O'Bannon (Alien) at their most demented, dialing up their pet obsessions to 11. Your new favorite cult classic, this is a film made for drinking games, and not to be missed on the big screen.
Director: Tobe Hooper. 116 min. 1985. 35 mm
---
Sunday October 23, 2011. 2:00 pm $12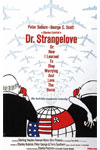 Followed by "Doomsday on the Brain" panel discussion
Co-presented by BOMB Magazine
Formidable institution, AFI-list mainstay, and the Kubrick least likely to cause dissent, this Cold War "nightmare comedy" is so canonical it's easy to forget that it's also radical, devastatingly funny and eerily prescient.
Fearful the Russkies are fluoridating America's drinking water to pollute "our precious bodily fluids," General Jack D. Ripper fires up the "Doomsday Machine," sending the world's power players scrambling. Released when the End was awfully close to nigh, Strangelove was intended to be gravely serious, but as Kubrick began to contemplate "mutually assured destruction" (aka MAD), he couldn't help but zero in on the lunacy. "One of the great adolescent pranks perpetrated in movies." – J. Hoberman
Director: Stanley Kubrick. 91 min. 1964. 35mm
Following the film, we'll be joined by a panel of experts in an attempt to diagnose our collective doomsday complex and wrap our heads around the lunacy of it all. Featured panelists include: neuroscientist Joseph Le Doux (Synaptic Self), Dr. Mark Siegel (False Alarm: The Truth About the Epidemic of Fear), Lee Quinby (Millenial Seduction), critic Keith Uhlich (Time Out NY) and critic Mark Asch (The L Magazine). Moderated by Paul W. Morris, General Manager of BOMB Magazine.
---
Sunday October 23, 2011. 4:30 pm $12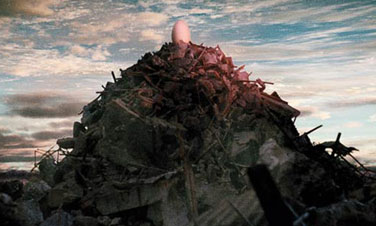 An international array of brand-new apocalypse films including: crazed prophet street art, psychedelic animation starring a single lemon, docs tracking the daily lives of Harold Camping's devoted followers, Slamdance award winners, experimental collage art featuring haunted meteorologists, and steampunk ninjas courtesy of the FX wizard behind Star Wars and Starship Troopers.
Featuring:
GET WITH THE PROGRAM - Jennifer Deutrom. Austin, TX. 2010. 4 min
HEARTPOCALYPSE - Matthew Silver. Brooklyn, NY. 2010. 7 min.
HOW TO PREPARE FOR SURVIVAL - Lisa Kletjian. Brooklyn, NY. 2011.18min
JUPITER ELICUS - Kelly Sears. Houston, TX. 2010. 4 min
MATTHEW 24:14 - Eyespeak. NY, NY. 2011. 5min
MUTANTLAND - Phil Tippett. Los Angeles, CA. 2011. 5min
SEED - Ben Richardson & Daniel Bird. Brooklyn, NY. 2011.10 min

Followed by an ultra rare screening of FUTURE SHOCK

"In 1970, sociologist and futurist Alvin Toffler, the Ray Kurzweil of his day, wrote a book entitled Future Shock, which proposed a certain distressing psychological state induced by change so rapid the human mind can't digest it, and introduced the notion of "information overload" for the first time. In 1972, the book, already a bestseller, was adapted into a little-known documentary of the same name, narrated by Orson Welles. Exploring the shift from industrial society to what Toffler calls "super-industrial society," the film tackles notions of consumerism and information overload — think BBC's The Century of the Self meets Nicholas Carr's The Shallows." – Cory Doctorow, Boing Boing

Director: Alex Grasshoff. 43 min. 1972. 16mm
---
Sunday October 23, 2011. 7:00 pm $12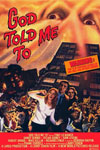 Followed by Skype Q&A with director Larry Cohen conducted by Cyriaque Lamar of io9 Co-presented by Alt Screen
As rapturously nutjob as a Harold Camping prophecy, Larry Cohen's unholy B flick casts Tony Lo Bianco as a devout Catholic cop investigating an outbreak of homicidal religious mania, where God is being blamed for coercing the good people of NYC to send their loved ones to heaven the hard way.
Perhaps the most radical of Cohen's populist genre works, God Told Me To is the paranoid skuzzy downtown flipside to Rosemary's Baby's uptown neurosis. Tautly paced, with an uneasy blend of fever dream deaths, sly social commentary, sacrilegious black comedy, edgy vérité lensing, and Catholic guilt played straight, God Told Me To features scene after scene of rich pulpy dialogue delivered by a cast of old pro character actors. Released during a time when both the cult craze and the Christian Right had just made their ascension, the film's heretical derangement of the Gospel leaves absolutely no spiritual anxiety unprodded.
Director: Larry Cohen. 87 min. 1976. 16mm
---
Check out our 2009 and 2010 programming to get a taste of what we've featured in the past.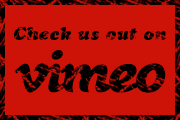 Missed a panel? Watch us on Vimeo!
---
Presented in partnership with:

---