The 2010 Doomsday Film Festival explores our collective obsession with the Apocalypse in film, art, and culture.
From raptures, plagues, meteorites, nuclear holocausts, aliens, zombie attacks, ecological catastrophe, and cybernetic revolt to the 2012 doomsday predictions, the Festival will touch upon all possible permutations of our collective demise.
We'll be screening films from across the board, with works ranging from premieres to established classics to rediscovered gems. On the schedule for the 2010 Festival are nuclear fallout cartoons, early '60s atomic parables, '80s zombie punk, award-winning independent shorts, and much more.
The event will incorporate a panel-based symposium featuring authors, artists, and all manner of experts on the End of Days. We plan to tackle the Apocalypse in all its forms, and hope you'll join us for the ride!
Join our social network and email lists:



---

DDFF in the News!
---

Where is this year's Festival Being Held?
Spectacle Theater
124 S. 3rd St. (near Bedford Ave.)
Brooklyn, NY 11211
www.spectacletheater.com
---
What is the Spectacle Theater?
Spectacle is an independent not-for-profit theater in Williamsburg, Brooklyn, NY. They screen hard to find and out of print films; have live musical accompaniment to silent movies; and host symposiums and presentations. They are located at 124 South 3rd Street in Williamsburg. Easy to get to via the L, G, or J/Z trains.
---
So when exactly will the world end?
It's hard to say. There have been many different End Times scenarios from societies throughout history. Come to the "Doomsday over the Ages" panel discussion and ask one of our experts in person.
---
Isn't it a little weird to be celebrating the End of the World?
Well, we noticed that this subject keeps popping up in our visual culture and we are interested in exploring why. There's a wide range of thought on the Apocalypse that's rooted in both imaginative escapism and genuine fears. Our film programming is intended to investigate themes involving the Rapture, 2012, Nuclear Annihilation, Zombies and everything in between.
---
But this festival is kind of a party too, right?
Yes! You can't screen "Damnation Alley" and take yourself too seriously. We'll have concessions at all screenings, killer DJ sets, receptions and an after party at a local Williamsburg bar.
---
Isn't the Apocalypse a very serious business?
It certainly is. Our mission is to explore all aspects of Doomsday in Film, Art, and Culture. Panels on "Doomsday Over the Ages", "The Rapture" and "When Zombies/Aliens Attack" will provide viewers an opportunity to explore the Apocalypse in detail.
---
Should I buy tickets online?
Yes. Tickets are available online and at the door, but we expect to sell out most screenings. We strongly recommend purchasing online to guarantee a seat.
---
I have a short film/painting/videogame/comic book/graphic novel/ambient video/poem/piece that I'd like to present at the Doomsday Film Fest. Are you taking submissions?
Sorry, but submissions for DDFF 2010 are now closed. Please check back with us in 2011!
---
What should I do in case of a Zombie attack?
Rendezvous with other survivors at Spectacle Theater. And bring your axe.
---
Who Are The Festival Directors?
Andrew Miller is an award-winning filmmaker living in Brooklyn, NY. His short stories, articles and photography have appeared in a handful of assorted publications. He's the drummer for the band Riff Raff and works for a non-profit which provides relief services for New York's homeless population.
Contact Andrew »
Kristana Textor is a Brooklyn based documentary Director of Photography. When she's not working in film & television she paints abstract interpretations of End Times.
Contact Kristana »

View Kristana's artwork »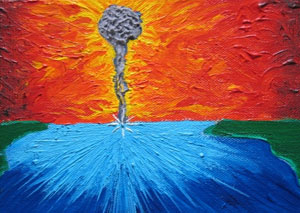 Title, Acrylic on Canvas
---
Who Are The Doomsday Visual Artists?
Bob Bellerue
Chris Dunlap
Jamison Brosseau
Jeff Porterfield
Michael Hall
Kristana Textor
Ron Miller

More info still being added. Please check back for updates or subscribe to our Facebook and Twitter feeds!
5:00 - 7:00PM
OPENING RECEPTION & ART SHOW
Curated by Joel Morrison, Atomic DJ set by Matthew Beals
---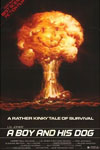 7:00 - 9:30PM
DOOMSDAY OVER THE AGES
A Boy & His Dog
L.Q. Jones, U.S., 1975; 90 min
$8.00 Admission
View Trailer »

Closely adapted from the acclaimed novella by Harlan Ellison, this controversial black comedy features Don Johnson as a young, libidinous loner named Vic who roams a post-World War IV wasteland with his telepathic dog Blood, battling for food, shelter, and a little sexual companionship. The sole feature directed by L.Q. Jones, veteran character actor with no less than five Sam Peckinpah films to his credit. "A cross between George Orwell and Mel Brooks" - Chicago Tribune

Preceded by a panel of Doomsday experts:
---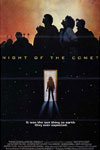 10:00PM - 2:00AM
POST-APOCALYPTIC VALLEY GIRLS &
SURPRISE MIDNIGHT FLICK
Night of the Comet
Thom Eberhardt, U.S., 1984; 90 min
$8.00 Admission
View the trailer »

Two girls from the Valley wake up to find that a passing comet has eradicated their world and left behind a mysterious red-dust and a pack of cannibal mutants. With the help of a friendly truck driver, the girls save the earth from a villainous "think tank," karate chop their way through flesh-eating zombies, and, of course, find time to go to the mall. With Catherine Mary Stewart and Eating Raoul star Mary Woronov. "Endearingly hokey low-budget B movie with puffy hairstyles and clashing neon/shoulder pads fashion" – Jeremiah Kipp, Slant Magazine

Special appearance by CATHERINE MARY STEWART

Followed by apocalyptic DJ set & SURPRISE MIDNIGHT FLICK
12:00 - 3:15PM
DOOMSDAY RARITIES ($8.00 Double Feature!)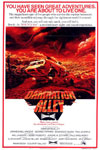 Damnation Alley
Jack Smight, U.S., 1977; 95 min
View the trailer »

A band of World War III survivors set out across a devastated America in an armored Landmaster in search of a faint radio signal from the last outpost of civilization – Albany, New York. Along the way, they encounter freak storms, ragged survivors, and giant killer cockroaches. At one time intended by studio 20th Century Fox to be the big blockbuster of 1977, it was soon forgotten in the shadow of Star Wars. With Jackie Earle Haley, George Peppard, Jan-Michael Vincent, Paul Winfield and Dominique Sanda(!).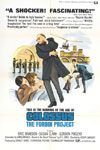 Colossus: The Forbin Project
Joseph Sargent, U.S., 1969; 100 min
View the trailer »

"I think Frankenstein ought to be required reading for all scientists." So says Dr. Forbin, creator of supercomputer Colossus designed to take over the United States' nuclear arsenal and remove any human (and thus fallible) human interaction. The warning comes too late however and before you can say HAL (or Skynet, or the Matrix), Colossus starts going haywire and turns against its human masters. The granddaddy of "technology run amok" films, Colossus was actually produced before 2001 but its studio was so upset by the film's grimness that it delayed the film's release for more than a year. Never dull, with a literate script and taut direction by Joseph Sargent (The Taking of Pelham 1-2-3).
---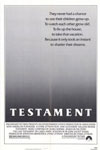 3:30 - 5:30PM
ATOMIC ANXIETIES
Testament
Lynne Littman, U.S., 1983; 90 min
$8.00 Admission

Arguably the most disturbing of the films made in the early '80s dealing with the aftermath of a nuclear war. Starring Jane Alexander, the film shows what happens to a suburban family in the Pacific Northwest after a nearby nuclear attack. As it turns out, those killed by the initial blast are the lucky ones; Alexander and her family must suffer through radiation poisoning and sickness, the daily diminution of life this causes, and, for Alexander, the eventual deaths of those around her. Quietly powerful and never overstated. "A gentle, loving, noble, angry and heartrending film." – Geoff Andrew, Time Out London

Followed by a panel:
---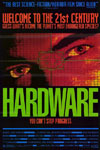 5:45 - 8:15PM
CYBERNETIC REVOLT
Hardware
Richard Stanley, U.K., 1990; 92 min
$8.00 Admission
View the trailer »

A post-apocalyptic scavenger (Dylan McDermott) brings home a battered cyborg skull for his metal sculptor girlfriend, unaware that it contains the brain of the M.A.R.K. 13, the military's most ferocious bio-mechancial combat droid. Soon, the dismembered fragments reconstruct themselves from household appliances, turning their apartment into a combat zone as the reborn machinery goes on the rampage. From underrated visionary Richard Stanley (Dust Devil). Along with appearances by Iggy Pop and Lemmy of Motörhead. "An energetic, low-budget Pandora's Box of delights, tailor-made for the disposable '90s." – Derek Adams, Time Out

Followed by a panel:
---
8:30 - 10:15PM
ALL NEW DOOMSDAY SHORTS
A festive night of Apocalyptic short films curated from around the world. Audience award & prizes. DJ, Party, concessions.
Screenings:
Alice Jacobs is Dead
Alex Horwitz , U.S., 2009; 21 min
(www.strange-case.com)
Baby Boom
Thierry Lorenzi, France, 2009; 8 min
(www.babyboom-lefilm.com)
Ducked & Covered
Nathaniel Lindsay, Australia, 2009; 9 min
Martian Precursor
Brian Lonano, U.S., 2010; 1 min
(robothandfilms.com)
Mutually Assured Desire
Andrew Hellesen, U.S., 2010; 6 min
Outside
Jenn Kao, U.S., 2004; 15 min
(www.outsidethemovie.com)
When Will It Be Silent
Dan Sachar, Israel, 2009; 7 min
Stoney
Jacob LaMendola, U.S., 2010; 16 min
(www.stoneyfilm.com)
How to Prepare for Survival
Lisa Kletjian, U.S., 2010; 18 min
---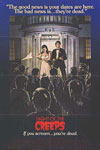 10:30PM - 12:30AM
WHEN ZOMBIES/ALIENS ATTACK
Night of the Creeps
Fred Dekker, U.S., 1986; 88 min
$8.00 Admission
View the trailer »

When parasitic alien slugs are accidentally unleashed from a cryogenic state of suspended animation, they wreak havoc on a college campus , turning the students into kill-happy zombies. Fred Dekker's spoof/tribute to '50s-era horror and science fiction died an unheralded death at the box office back in the slasher-centric '80s, but it has developed a passionate cult following in the ensuing decades. Featuring Tom Atkins as a cranky police detective for the ages. "A classic in every sense of the word" – Steve Barton, Dread Central
Free ZOMBIE makeup at South 4th Bar!
9:00pm - 10:15pm, (90 S.4th St at Berry)
Screening preceded by a panel of zombie/alien experts:
---
AFTERPARTY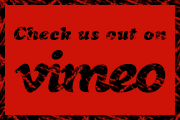 Missed a panel? Watch us on Vimeo!
---

Presented in partnership with:
Spectacle Theater
---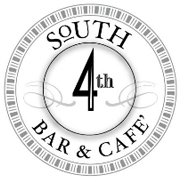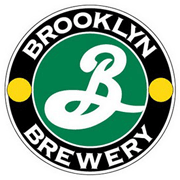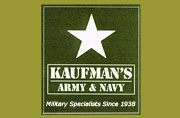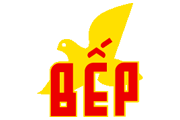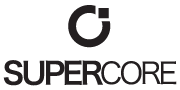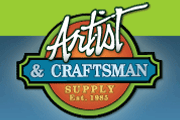 Online Forum - Participate in our online forum discussions.